Guarantee of quality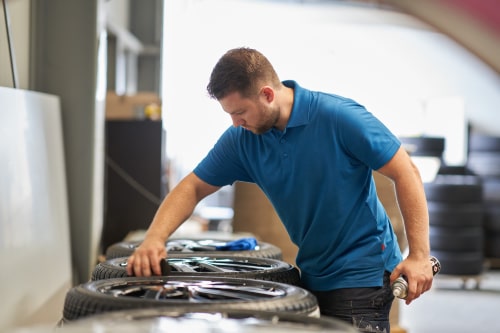 Our quality guarantee is lived by an experienced team of trained employees, car mechanics and master car mechanics in the company, after all, you buy a premium product for the vehicles of the brands BMW and MINI. You have the choice between new, as good as new and used original BMW and MINI complete wheels.
Every truck load of BMW AG is cleaned in our automatic wheel washing plant after unloading and then pre-sorted. A team of trained employees and automotive mechanics inspect each complete wheel for any damage. After final inspection on one of our numerous wheel balancing machines, the wheel sets are photographed in our in-house photo studio and placed in our online store.
It is very important to us that every optical defect is precisely illustrated and listed, so that you know in which optical condition your desired wheel set is.
Then our warehouse staff professionally stores the wheel sets in one of the 15,000 storage spaces in our high-bay warehouse. After receipt of your order, the wheelsets are picked and, before being packed, checked again by our four-eye quality inspection and finally cleaned.
In order to guarantee a fast and reliable delivery, the original BMW wheel sets are, depending on the size of the wheel, either packed for UPS parcel shipment or for forwarding shipment in our semi-automatic packaging system, secured against transport damage several times and monitored by camera.
All processes are monitored by our two master car mechanics, after all we want you to be safe on the road due to our high quality standards.