Kerpen Logistics Center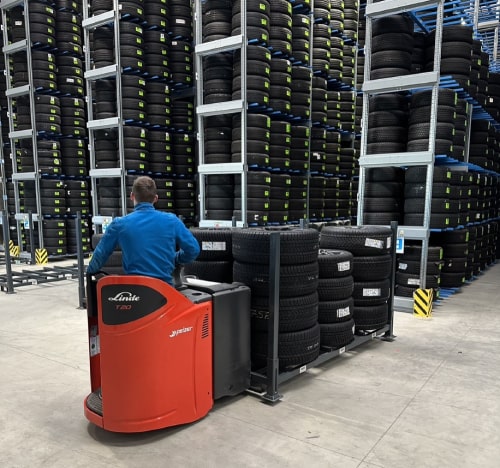 The logistics center of Werksräder24 GmbH at the Kerpen site extends over three buildings, whereby the administration building with adjacent new rim warehouse is connected to the high-bay warehouse built in 2022. The semi-automatic packaging line is also located in this building.
Currently, we are able to load and unload simultaneously at five adjustable truck loading ramps. Normally, two UPS loading ramps and one to two semi-trailers are permanently at the site for daily shipments and are exchanged by the forwarding companies in the evening.
Building 1, which was built after the company was founded in 2013, currently houses the fully automatic wheel washing system, six workstations with wheel balancers and the employees' break rooms.
In total, the logistics area at the Kerpen site has grown to over 10,000 square meters. We currently have more than 40,000 complete wheels in storage. With our modern fleet of forklift trucks, our own programmed storage system and our trained employees, we are able to absorb even seasonal order peaks and process them in the usual quality.
Our logistics center is unique in many ways, as it has a number of stunning features that make it an ideal place for us to store and transport original BMW and Mini complete wheels.